Epic Alaska
At a glance
Duration: 11 day / 10 night
Coverage: Ketchikan to Sitka, AK
From: $8,990
Season: June - August
Activities: Hiking, Kayaking, Photography, Zodiacs
Book this Trip › or call us toll-free 1-888-815-5428
Request eBrochure
Embark on an immersive, wide-ranging photo expedition that focuses entirely on Alaska's famed Inside Passage. You'll experience the perfect mix of small-town life and the grand expanse of the wild landscape that surrounds it. Capture it all with the help of our Lindblad-National Geographic photo expedition team.
This expedition enables you to:
Raft though the Chilkat Bald Eagle Preserve, which boasts the largest congregation of bald eagles in the world
Explore Glacier Bay National Park, Misty Fiords National Monument, and search for humpback whales in their summer feeding grounds
Kayak amid glacial ice, hike the Tongass National Forest and learn about the region's rich Tlingit heritage
Benefit from a top photo team
Sailing with you aboard the 62-guest National Geographic Sea Bird will be a team of top photographers to ensure you go home with top shots. Whether you're new to photography or a published pro eager to add Alaska to your portfolio, you'll find our expedition team is adept at curating photo ops with outings timed to take advantage of morning and evening light and insights into wildlife movements that will help you create dynamic shots.
Ample time to discover Alaska's iconic wildlife
More time in the region means more chances for encounters with wildlife. This expedition spans the lower and upper reaches of Alaska's inside passage, with more time for kayaking, hiking, and cruising among the iconic wildlife and ice of the region.
Get a slice of Alaskan life in Haines
This voyage will take full advantage of all that Haines Alaska, the state's "Adventure Capital," has to offer. Head out on active excursions, get to know the small town's arts community and, since we'll linger into the evening, be sure to stop at local lively bar to hoist a pint or two of local craft ale.
We hiked, we kayaked, we swam, (it was so warm we jumped in for no more than 3 seconds), we made new friends, we ate, we learned, we loved every minute of it.
Day-to-Day Itinerary
Day 1: Ketchikan

Arrive in Ketchikan, view the priceless collection of 19th century Tlingit totem poles at the Totem Heritage Center. Embark National Geographic Sea Bird. (D)

Day 2: Misty Fiords

Wake amid the glacially-carved cliffs of Misty Fiords National Monument. Explore by expedition landing craft and kayak for a closer perspective. (B,L,D)

Day 3: Behm Canal / Clarence Strait

Explore the verdant Tongass National Forest. Cruise through steep-walled fiords in search of photogenic wildlife. (B,L,D)

Day 4: Thomas Bay / Petersburg

Call at the quaint Alaskan town of Petersburg on Mitkof Island. See a unique muskeg ecosystem with stunted trees and carnivorous plants. Explore by bike or optional flightseeing. (B,L,D)

Day 5: Tracy Arm – Fords Terror Wilderness

Navigate the spectacular Tracy or Endicott Arms fjords to South Sawyer or Dawes Glacier, and, if conditions permit, venture closer in our expedition landing craft for unparalleled photo opportunities. (B,L,D)

Day 6: Haines

Explore Alaska's "adventure capital" on a world class hike or bike ride along the edge of a glacial lake. Raft the Chilkat River to a bald eagle preserve, and call at the ancient Chilkat Tlingit village of Klukwan for a cultural interpretation. (B,L,D)

Day 7: Lynn Canal

Hike and kayak where the mighty Chilkat River meets the sea, in the shadow of snow-capped peaks and at the northern limit of Alaska's Inside Passage. (B,L,D)

Day 8: Glacier Bay National Park

We spend the entire day amidst the coves, fjords, tidewater glaciers, and majestic mountains of Glacier Bay National Park. Search for mountain goats, harbor seals, Steller sea lions, and puffins. A native Tlingit cultural interpreter and a National Park Service Ranger join us to share the local legends of the area. (B,L,D)

Day 9: Icy Strait / Inian Islands

See an abundance of Steller sea lions. Hike nearby islands, kayak, and search for whales in the rich waters of Icy Strait. (B,L,D)

Day 10: Exploring Baranof or Chichagof Islands

Kayak, hike, and explore where conditions are best and wildlife is most active. Cap off the day with the Captain's farewell dinner. (B,L,D)

Day 11: Sitka/Disembark

After breakfast, disembark to visit picturesque Saint Michael's Russian Orthodox Cathedral then visit the Raptor Rehabilitation Center. (B)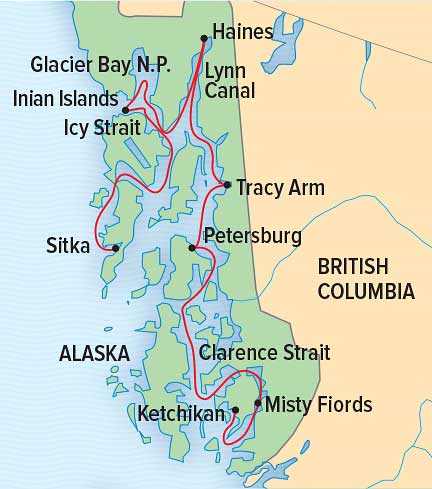 Dates & Rates
| Dates | Direction | 1 | 2 | 3 | Solo 1 | Solo 2 |
| --- | --- | --- | --- | --- | --- | --- |
| Jun 14, 2019 | Sitka to Ketchikan | $8,990 | $10,490 | $11,890 | $13,490 | $15,740 |
| Jun 24, 2019 | Ketchikan to Sitka | $8,990 | $10,490 | $11,890 | $13,490 | $15,740 |
| Jul 24, 2019 | Sitka to Ketchikan | $8,990 | $10,490 | $11,890 | $13,490 | $15,740 |
| Aug 3, 2019 | Ketchikan to Sitka | $8,990 | $10,490 | $11,890 | $13,490 | $15,740 |
| Jun 6, 2020 | Sitka to Ketchikan | $8,990 | $10,490 | $11,890 | $13,490 | $15,740 |
| Jun 16, 2020 | Ketchikan to Sitka | $8,990 | $10,490 | $11,890 | $13,490 | $15,740 |
| Jul 16, 2020 | Sitka to Ketchikan | $8,990 | $10,490 | $11,890 | $13,490 | $15,740 |
| Jul 26, 2020 | Ketchikan to Sitka | $8,990 | $10,490 | $11,890 | $13,490 | $15,740 |
Included in Cruise Fare
All accommodations aboard ships or in hotels per itinerary or similar
All meals and nonalcoholic beverages aboard ship, meals on land as indicated
Air transportation where indicated as included
Shore excursions, sightseeing and entrance fees, special access permits
Transfers to and from group flights
Use of snorkeling equipment and wet suits, use of kayaks (where available)
Gratuities (except to Egyptologists and ship's crew)
Taxes and service charges
Services of a ship physician on most voyages, and services of our expedition staff
Not Included in Cruise Fare
Air transportation (except where shown as included)
Extensions, passport, visa, immigration fees
Scuba diving (where available)
Meals not indicated
Baggage/accident/travel protection plan
Items of a personal nature, such as alcoholic beverages, e-mail, and laundry
Gratuities to ship's crew at your discretion
Ships
National Geographic Sea Bird
The National Geographic Sea Bird can reach places inaccessible to larger ships due to their small size, yet each comfortably accommodates 62 guests in 31 outside cabins. The feeling, we're told, is often compared to that of a large private yacht, with everyone integral to the adventure. Accessibility means freedom. Our captains have decades of sailing experience in the regions we explore. They know when and where to navigate so that you feel the places we visit are all ours. View ship details...
Videos