Epic Galápagos Photo Expedition
Cruise Highlights:
Shoot & learn from top photographers.
Daily photo assignments to help build your personal portfolio.
Special, mid-voyage photo edited seminar with expert image critiques to boost your skills.
Special photography tour of the Charles Darwin Research Station.
At a glance
Duration: 16 Days, 15 Nights
Coverage: Roundtrip Guayaquil, Ecuador
From: $13,920
Season: November
Activities: Birding, Hiking, Natural history, Photography, Sightseeing, Snorkeling, Zodiac cruises
Book this Trip › or call us toll-free 1-888-815-5428
Join a team of top National Geographic photographers in one of the planet's most photogenic places for an in-depth, up-close exploration over two weeks. Whether you're a published pro or a rookie looking to build a portfolio, you'll learn new shooting skills in the field and editing and gear tips during on board sessions.
You'll explore with National Geographic photographers, Lindblad-National Geographic certified photo instructors, our director of expedition photography, and two gear and editing specialists from B&H Photo/Video.
Your photo team includes National Geographic Photographer Mark Thiessen, widely published in all areas of the National Geographic Society since 1990; Ralph Lee Hopkins, the Lindblad-National Geographic Director of Expedition Photography; National Geographic Photographer Rich Reid, who has specialized in adventure and environmental photography for over two decades; National Geographic Photographer Krista Rossow, who has served as the photo editor for National Geographic Traveler magazine for over seven years; certified photo instructor Jonathan Kingston, who is currently a photographer with National Geographic Creative; and certified photo instructor Jennifer Davidson, who is an undersea expert and marine biologist.
This team will offer shooting tips in the field, coaching aboard ship, plus special photo assignments guaranteed to add skills and photos to your portfolio. Flanking them is our top expedition team: an expedition leader, naturalists, an undersea specialist, plus a wellness specialist.
Acclaimed photographer and naturalist Tui de Roy spent most of her life living in the Galápagos Islands, and her photography books of the archipelago are famous. She was the Galápagos National Park's first naturalist to serve the tourist industry in the 1970s and has an extraordinary, far-reaching knowledge of many of the places we'll explore.
The wildlife of Galápagos is legendary for its uniqueness and lack of an instinct to flee human presence, allowing you the rare experience of being able to get very close—making for magical photo ops. See blue-footed boobies. Flightless cormorants. Darwin's finches. Galápagos penguins. Sea lions on beaches or gamboling underwater. Giant tortoises grazing in the highlands. Each island contains endemic species, and you'll have the opportunity to explore all of the major islands on this expedition.
You'll be able to snorkel nearly every day, sometimes twice a day. For those who prefer to stay dry, there's the adventure of Endeavour's glass bottom boat. And each day you'll have the option to walk, hike, kayak, or Zodiac cruise, and to join a different naturalist as you choose: there are no assigned groups.
Day-to-Day Itinerary
Day 1 - U.S. / Guayaquil, Ecuador

Depart U.S. and arrive Guayaquil by late evening; it's a short drive to the Hotel Hilton Colon, where we spend the night.

Day 2 - Guayaquil/ Galápagos Islands/Embark National Geographic Endeavour

After the 1½ hour flight to Galápagos, we'll immediately board the ship. This afternoon we will begin to explore Galápagos with a landing at the beautiful Las Bachas beaches, lined with endemic coastal plants and protected saltwater lagoons. (B, L, D)

Day 3 - North Seymour Island and Rabida Island

North Seymour Island is an uplifted piece of seafloor, home to land iguanas, sea lion colonies, blue-footed booby and frigate bird nesting colonies. We will spend the morning observing and photographing the rich wildlife of this islet as we hike the rocky trail.

This afternoon will be the first of many great snorkeling opportunities. You can also opt to kayak along the picturesque volcanic coast. Later you'll land on the bright red sand of a charming beach and take a hike into the island to search for hawks and other land birds to photograph. (B, L, D)

Day 4 - Fernandina Island

Fernandina Island is the youngest and most pristine island in Galápagos. The stark black lava flows are home to some of the largest marine iguana colonies in the archipelago, and the peculiar-looking flightless cormorants nest along the coast. Bright red Sally Lightfoot crabs, fun to photograph, scamper among the black rocks, and sea lions play along the coast against the dramatic backdrop of volcanoes.

Later today, sail across the channel to Punta Vicente Roca on Isabela Island. Snorkel in a sea turtle feeding area and then take Zodiac rides along the coast to look for Galápagos fur seals and penguins. Late afternoon, gather on the outer decks to get a look inside the huge collapsed caldera of a Ecuador Volcano while crossing the Equator at sunset. (B, L, D)

Day 5 - Isabela Island

In 1954, over half a square mile of marine reef off the coast of Urbina Bay was uplifted almost instantaneously by as much as 15ft, and evidence of this event abounds in the area. You'll land on a turtle nesting beach of black sand, and take a couple of hike options to look for the wildlife of the area, that includes a large land iguana nesting colony and occasional giant tortoise sightings.

In the afternoon the ship repositions to the historical Tagus Cove, a sheltered bay that has been a popular anchorage for centuries of visitors, including Charles Darwin on the HMS Beagle. Activities you can choose here include a scenic hike that looks over a volcanic crater with a lake inside, Zodiac rides and kayaking outings to look for penguins, flightless cormorants and shorebirds, and even some deep water snorkeling. (B, L, D)

Day 6 - Santiago

Hike up into a coastal forest behind one of the largest turtle nesting beaches in Galápagos, you will explore the spectacular Buccaneer Cove by Zodiac and kayak, and enjoy snorkeling among the dense schools of reef fish that find refuge in the indented shoreline.

Afternoon hikes at Puerto Egas lead you through a fascinating geological landscape of mixed ash and lava flows, tidal pools and grottoes. Inhabiting the area you will find both Galápagos sea lions and fur seals, marine iguanas, land and shore birds, and brilliant Sally Lightfoot crabs. (B, L, D)

Day 7 - Santa Cruz

Santa Cruz is home to the largest human settlement in the Galápagos, in the vibrant coastal town of Puerto Ayora, and is the heart of the conservation and scientific work that goes on in the islands. Both the Charles Darwin Research Station and Galápagos National Park Service headquarters are located here, and among the most successful of their jointly-run programs is a 40-year old captive breeding program for endangered species of Galápagos giant tortoises, several of which have been brought back from the brink of extinction. You'll learn about the science and conservation work undertaken in the islands, and meet some of the key players in the local conservation world. After the visit you will walk through town to the main town dock to take Zodiacs back to the ship, with a stop at the scenic fish market on the way.

This afternoon, our photo team will be hosting a Photo Seminar on the Endeavour, at anchor in Academy Bay. This will be followed by a late-afternoon photographic outing in town. For any non-photographers we will have a shuttle service to and from town all afternoon, and offer a variety of different hiking, swimming, and kayaking options. (B, L, D)

Days 8-9 - San Cristobal

This important island is the easternmost island and the political capital of the province. We will be spending a total of two days visiting this special area. The first morning you'll visit Punta Pitt with its fascinating geology, also the only site where all three booby species that occur in the Galápagos nest together. You will take hikes up to the plateau for wonderful views, and take Zodiac cruises along the base of the cliffs to look for red-footed, Nazca and blue-footed boobies, and possibly even snorkel and kayak among young sea lions.

Later the ship will reposition to one of the most impressive rocky outcrops in the archipelago, the famed Leon Dormido or "Kicker Rock". This rock is famous for its marine life, and we will take a deep water snorkeling option among graceful sharks, sea turtles and other larger marine species. Late afternoon you'll join us on deck for sunset cocktails as we sail around this formation.

The second morning will see us depart the ship to explore the highlands of San Cristobal, a very different experience to the arid lowlands we will have seen until now. This island is famous for its freshwater, and it was here that Darwin's Beagle returned to stock up on freshwater for the rest of its voyage home. We will drive up to the only important freshwater body in Galápagos—a 34000m² lake at 687 meters above sea level that is formed in an old volcanic crater. On the way down we will visit a semi-captive tortoise population, including the endemic Chatham tortoise, and spend time among the large sea lion colony that inhabits the picturesque waterfront of the town.

The afternoon we will visit Cerro Brujo (Wizard Hill), where we will take Zodiac rides and kayaking options along the spectacular cliffs, before landing on the pretty beach for swimming and nature walks. (B, L, D)

Day 10 - Española

The oldest and southeastern-most of the Galápagos Islands. It is home to Darwin's finches, Galápagos hawks, and large blue-footed and Nazca booby colonies, as well as several species endemic to this island, such as the waved albatrosses, Hood mockingbirds, and Hood lava lizards. You'll walk among colorful red and black marine iguanas and sea lions. The morning will be spent at the spectacular Gardner Bay, home to a pristine white sand beach inhabited by extensive sea lion colonies. Activities here include exploring the beach, deep-water snorkeling, and kayaking. The afternoon will be spent hiking among the sea bird colonies at Punta Suarez. (B, L, D)

Day 11 - Floreana

During an early morning hike at Punta Cormorant you'll observe flamingos and shore birds, a turtle nesting beach and fascinating vegetation. Later, while at Champion Islet, you'll spend time looking for the endangered Charles mockingbird from our Zodiacs, then don your gear to snorkel among sea lions in clear waters. During the afternoon, you'll explore the historical Post Office Bay by Zodiac and kayak, then land on one of the same beaches Charles Darwin set foot on, and check the barrel originally set up by 18th century whalers for mail. (B, L, D)

Day 12 - Santa Cruz

You'll leave the ship early and head into the lush highlands where giant tortoises forage, to explore some very different ecosystems to those encountered in the lowlands and spend time observing and photographing these relics of another age. We'll have lunch in the highlands, then drive to visit a charming sugar cane mill located in the highlands called El Trapiche, then continue to the coast to spend the rest of the afternoon at the picturesque El Garrapatero beach. (B, L, D)

Day 13 - Dragon Hill and Guy Fawkes/El Eden and Daphne Major

Today you will hike through giant cactus and incense tree forests to reach Dragon Hill, the habitat of the colorful Santa Cruz land iguanas that have been brought back from the brink of extinction. Later you will have the opportunity to snorkel along the steep, invertebrate-coated walls of the islets of Guy Fawkes.

You will learn about the ground-breaking research of scientists Peter and Rosemary Grant into Natural Selection among the finches of Daphne Major as the ship circumnavigates the famous islet. (B, L, D)

Day 14 - Bartolome and Sombrero Chino

This morning you will visit Bartolomé, an enchanting landscape where lava, mangroves and golden sand converge. You will have the opportunity for an early morning hike to the summit of the cone, with stunning views of the famous Pinnacle Rock and the surrounding volcanic landscape. Later in the morning, you will enjoy some wonderful snorkeling from the beach, where you might encounter sea lions, small reef sharks and even Galápagos penguins.

In the afternoon you will continue to explore some of the small islets just off the coast of Santiago Island, this time a small volcano called "Sombrero Chino", due to its resemblance to a Chinese hat. The stark lava flows form tubes and caves that are an important nesting area for Galápagos penguins, and the waters bathing the shore are rich in fish life. (B, L, D)

Day 15 - Genovesa

The National Geographic Endeavour sails into the caldera of Genovesa, known as "bird island", where you'll enjoy hikes among nesting colonies of swallow-tailed gulls, frigate birds, red-footed and Nazca boobies all while keeping a look out for hunting short-eared owls. You'll ride Zodiacs and kayak along the base of the caldera wall, and snorkel among large schools of parrot fish and other tropical species. (B, L, D)

Day 16 - Galápagos / Disembark/Guayaquil

Disembark and fly to Guayaquil. The afternoon and evening are at your leisure at the Hotel Hilton Colon. (B)

Day 17 - Guayaquil/U.S.

Depart Guayaquil this morning, arriving home the same day. (B)
Dates & Rates
| Sailing Dates | Ship | 1 | 2 | 3 | 4 | 2S | 3S | AS | BS | CS |
| --- | --- | --- | --- | --- | --- | --- | --- | --- | --- | --- |
| Nov 24, 2017 | National Geographic Endeavour II | $13,920 | $15,880 | $17,480 | $19,180 | $19,860 | $21,860 | $22,880 | $24,560 | $25,960 |
* Reverse itinerary

Photo Cruise
Map
Ships
National Geographic Endeavour II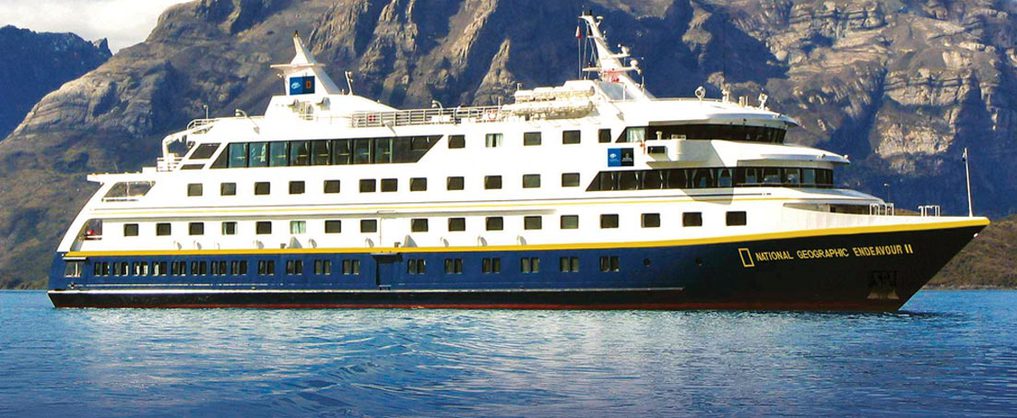 National Geographic Endeavour II is a purpose-built expedition ship that first sailed in 2005. After a complete refit, she will redeploy to Galápagos. She is exceptionally nimble and maneuverable, with a shallow draft to get up close, great viewing from all public spaces, large windows in cabins and suites, state-of-the-art tools for exploration, and a fast, seamless twin Zodiac loading platform. View ship details...